After a less than perfect night in the van somewhere in the rural hinterland of Coventry that turned out to be sandwiched between the glide path in to Brum airport above and the Westcoast mainline and a surprisingly noisy dual carriageway, we set off in to town for the start.
We had met up with Euan the previous evening and had a small adventure driving the van into a very narrow and tortuous pub car park with no spaces and an attempted exit through an arch smaller than the van. Very entertaining for the crowd of drinkers in the garden as cars trying to leave backed up behind us…
Anyway we were able to leave the van at the campsite to be picked up on Sunday and set off this morning to the local station to get a train into town with the bikes. Only a couple of stops but plenty of space and quite cheap so worth it to arrive in time for the start.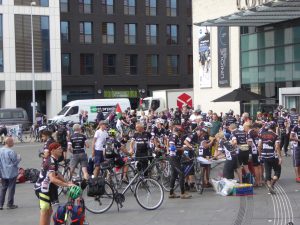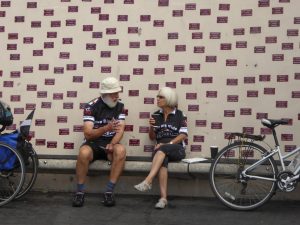 There were a fair few riders there already, well organised (by volunteers – many thanks to them), vans to carry luggage to our accommodation if required and also laden with snackerals and water for stops along the way.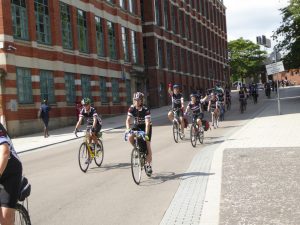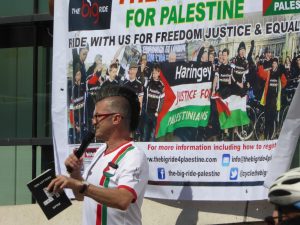 Found Euan and had a coffee in front of this wall of plaques with names of people linked in some way through Coventry. One or two gaps where plaques had been removed – perhaps people who no longer wanted to be linked through (or with?) Coventry?
There was a bit of speechifying including this poet whose name I didn't catch and then we were away.
170+ riders for the first day, including a multi-generation Palestinian extended family who had come together (12 of them) from exile in many different countries to join the ride.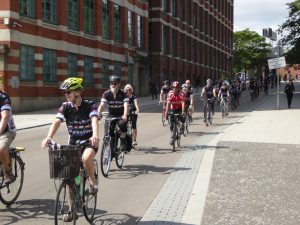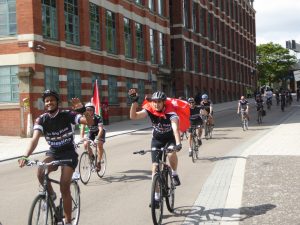 Very difficult to photograph such a big group, particularly when riding on the road no more than two or three abreast.
It would have needed about 20 photos like this to capture the whole ride as we left.
Anyway it was a good day for a ride in company. Mostly fairly gentle countryside with people to talk to, on the busier roads we bunched up a bit and took over the junctions.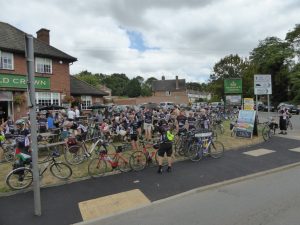 A really good technique for making sure everyone knew which way to go and no-one got left behind even when we were really strung out along the road. Two front markers in orange tabards set the pace (not too fast) in front, and two back markers also in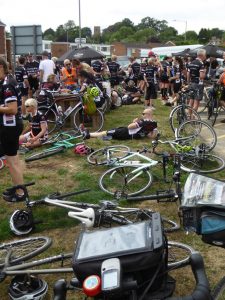 orange tabards stay behind the last rider, even when punctures or other mechanical issues have to be fixed.
Then at each significant junction or where the path divides a fit rider from the front stays as a human signpost pointing the way right until the back markers arrive. Then they can pedal as fast as they like to get back to the front if they wish.
Also on the road bike mechanics and first aiders riding with yellow tabards to deal with any problems. If necessary a support van can be called to pick up anyone unable to continue.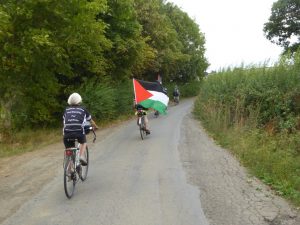 Essentially the ride forms its own rolling community and a real spirit of shared adventure emerges.
In suburban areas we bunch up a bit to get everyone (or as many as possible) across junctions as a single vehicle, with riders from the front holding the crossing traffic back diplomatically.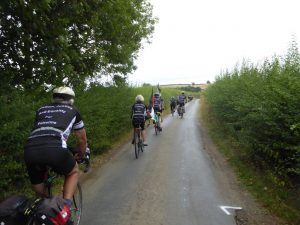 Occasionally giving leaflets to cars or pedestrians who wanted to know what it was about. Good vibes.
More strung out along the cycle tracks and lanes.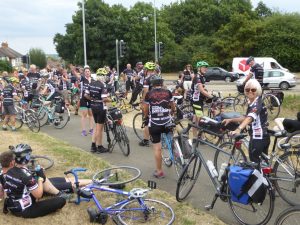 Some of the worst cycle gate infrastructure I have ever seen at the end of the railway cycle path south from Rugby. Bad kudos to the council there.
Stops for rest, refreshment and regroup every 10 miles or so and the day flew by.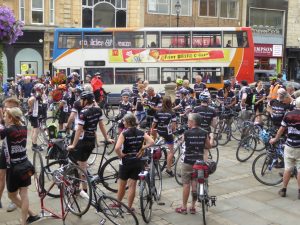 About 60km on the ride itself plus another 10 or so for getting to the start and from the finish to hotel.
We, with about 60 others, were quartered in a Premiere Inn a few km to the South, so we had a little extra ride in convoy up the hill to the hotel. Time to sort out rooms, quick shower and change then it was out to get lifts down to the reception in a Community Hall near the centre of town.
Some excellent home cooked middle eastern food was served to all and much chat around tables in the hall (very harsh acoustic and difficult to hear clearly) and more comfortably outside in the street.
Being a bit tired we blagged an earlyish lift back to the hotel and so gratefully to bed.
Stats for the day: 66.9km ridden with a top speed of 51.2km/hr (that must have been where I put my foot down on a clear bit of country road descent) and a rolling average of 15.1 km/hr for 4hrs 26mins of riding. The average speed for the back markers will, of course, be somewhat less as they would typically be loosing at least a minute every couple of km on average, arriving at the rest breaks up to 10 mins behind.