Woken by heavy rain at 6am. Went back to sleep and woke to overcast day but no rain. And so it stayed, very warm and muggy, overcast with black rain clouds in every direction you looked, wet ground, but no rain on me as I moved onward.
Actually that's not quite true; when I emerged from a coffee stop mid-morning a light shower started just as I mounted, so I got off and waited 2 mins under the cafe awning and it stopped. Then after lunch just as I set off a heavy shower came so I sheltered in a convenient bus shelter for 6 minutes while it passed. Aside from that lots of rain around but none on me. I felt like Canon Lynda's blessing from the first day of Pedal to Paris was working again ?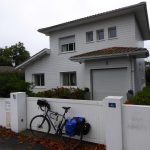 From Andernos continued south along the Arcashon basin on the old railway path from yesterday. Flat and with a good smooth tarmac surface – fast. Very noticeable how much more traffic there was on the streets and roads around. I guess its the effect of Bordeaux being a short commute away. My hosts last night were both doctors working in Bordeaux – in fact she was late back to meet me owing to la circulatione, but a neighbour let me in and we chatted when I got back from going out for something to eat. Obviously a busy town in the holiday season, but not so much choice on a Monday in October. Still I found a Spanish place open which provided the necessary, and good it was too.
At Biganos I left the Veloddesy route and turned South-eastwards onto another old railway line now the Piste Cyclable Mios-Bazas, also flat and with a smooth tarmac surface running 71km almost all the way into Langon.
Technically not quite flat, over the 70 km it rose some 70 metres and then descended again. Barely perceptible.
All the way these paths are running through forest. At first predominantly pine, then with more oak stands and some kind of maple showing its autumnal red. Being railway line the trees are a bit closer than on the fire-break paths down the Gironde forest.
Occasionally opening out into cleared area and fresh growth. In these the heather was showing purple. Once or twice an area being prepared for re-growth by a big tractor pulling the most enormous plough through the sandy soil turning over and breaking up the old routes.
Every 8km or so there was an old station building attached to a village with space around where sawmills and wood stacks would have been. Now it is all hauled out as big logs on lorries to be processed elsewhere (even to China we were told during our summer in the Pyrenees).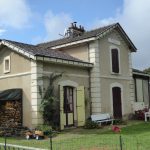 The station buildings are sometimes converted to residential or other uses, sometimes boarded up. They are all pretty substantially built to the standard french railway architecture design. Funny how railways have their own architecture and you can usually spot an ex-railway building in any country, even though each country has it's own national style. There could be an annex written to "A Pattern Language" (Alexandar et al's fascinating book on designing a good house, check it out if you are interested in what makes a house a home and why Wimpey etc. houses are so rubbish) (Also "The Timeless Way of Building" by the same authors for how to create/evolve a good community settlement).
At some point during the morning the path hit the A63 Autoroute that connects Northern Europe to Spain and turned to deviate alongside it for a couple of hundred metres until it could dive under it with a stream. A motorway crew was clearing the culvert between path and road. As I powered down the slope on the path and into the 90 degree bend to go under I was a little surprised to be met by a car coming the other way along the cycle path. Their supervisor coming to check how work was going I guess. Fortunately he saw me in time to take to the sandy verge and I just about stayed on both path and bike. Would have been a bit ironic to have hit a car on the path under the Autoroute.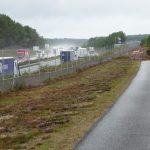 The autoroute itself was 6 lanes of high speed lorries in both directions. A salutary reminder of the impact of the industrial civilization that has made my trip into the wild possible. The bike is a highly engineered set of precision components that could not exist without what those thundering trucks represent. At the same time they are a massive (and possibly terminal) disruption to the ecology they over-ride. Not an easy circle to square. Would I rather live with an eighteenth century equivalent level of industrialisation and be unable to take a trip like this. I think the answer is probably yes, not least because then I wouldn't need to be doing this. Let us not be fooled into thinking there is any simple escape from where we are, we can't go back, and "sustainable" forward paths are not easy to find. They will be personal rather than imposed by some green, or red or blue, authority.
Anyway these tarmac'd cycle paths through the forests are an amazing ride. In October they are also almost completely devoid of traffic. All morning only two other touring cyclists came towards me, and a handful of local traffic and walkers. Maybe at the weekend the lycra-clad olelads are out trying to cling to their dream of winning a grand-tour, or simply fighting the middle age spread.
When I stopped for late lunch though in Saint-Symphorien I met an Austrian couple who had also stopped for lunch. The were going the other way from Sete where they had left their car to the Atlantic. They had with them two small children aged 3 and 5 and were fully equipped for camping, including wild camping. The bikes both had child seats – he was riding a tandem with the older girl in the child seat and all round panniers and towing the child's bike; which sometimes she would ride herself. The mother had the younger boy on a child seat and was towing a single wheeled trailer also fully laden. I was totally impressed. They seemed to be having a great time, mixing hotels, camp sites and wild camping and covering about 25 to 50km a day. They had 5 days left so should make it to the ocean ok. They also didn't speak french!
As we left I commented that the day was brightening up (they had got rained on in the morning) and he said yes the forecast was now good for the next few days. As we spoke it started to spit, I left them packing up and as I disappeared around a corner the heavens opened. I dived into a convenient bus shelter, I guess they sheltered at the restaurant where they had eaten. After 5mins it stopped and then the sun came out.
About 5km short of Langon the tarmac ran out and I diverted onto the lanes down to the Garonne. Suddenly we were out of the woods and into vineyards again. Not sure what wine region this is though – perhaps the cheaper end of Bordeaux?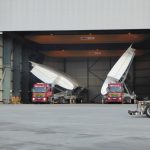 At Langon is a depot where Airbus A380 wings are transhipped from the barges that have carried them up the Gironde estuary and the Garonne through Bordeaux, onto giant road transporters for the final leg to the assembly plant at Toulouse. They are made in Lancashire and get to the Gironde by sea, as do other bits from all over Europe. C&J mentioned the special boats and barges that go to and from the port near where we ate our oysters. The whole thing is a massively impressive piece of human engineering : and completely mad.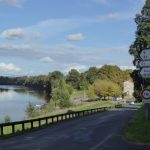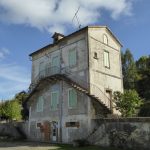 Just upstream from Langon is the 53rd lock on the Canal de Garonne which I will be following to Toulouse. In the photo of the lock house you can see a vertical blue bar on the facade. Near the top is the date Dec 1982. That's where the flood waters came up to then. The entire lock would have been underwater and the canal only traceable by the tops of the trees on the banks.
A worker assured me that in the last three years it has only flooded just up to the bottom of the door. Even so not sure I'd want to leave a boat overwinter on the canal there.
There were quite a lot of boats tied up along the canal including some 30-40 footish sailing boats with masts lowered and on cradles. I guess they make the passage from the English channel to the Med without having to go round Spain. Mostly they looked like they hadn't moved for some years. I seem to have failed to take any photos though.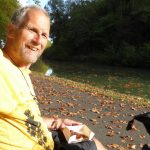 A little further on I did sit in the late afternoon sun with my tart-du-jour. A delicious slice of apricots under a glaze on a thick bed of thick sweet custard and just the right amount of pastry to support it. Yummy.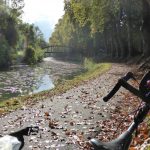 Along the pathside were giant plane trees, now shedding their leaves. On the water the leaves were slowly making their way towards Bordeaux. Didn't see any other canal traffic though.
The towpath cycle way was tarmac, not as smooth as the railway but perfectly adequate (and so much better than the gravel typical of English canal and railway cycle paths. Why the heck don't we tarmac them. If the French and Germans can do it then surely we can. Instead of which we build a pointless HS2 to shave 20mins off the time from London to Brum. For that money you could surface and maintain every cycle path in the UK and kick start a vibrant bike culture for all, saving the National Sickness Service millions.
Unfortunately there was no bar open anywhere after Langon, so I had to forgo my nearly there beer.
129 km today at a moving average of 20.2 km/hr. That's what a good surface across flatish grund can do. The max was only 33km/hr going down under the A63 until the descent on the lanes into Langon when it went up to 39.4 km/hr. Given a beer I could probably have done another 10km, but I am tired this evening.