Northampton to Luton
Slept well and woke just in time to grab a tea and get dressed before taking the bikes down for the ride into town.
One thing in favour of Premier Inns is that they are quite cycle friendly and let you take your bikes into the room, which is the most secure option for sure.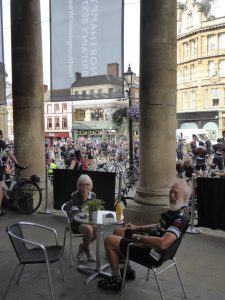 Nice easy downhill start for the 3km into town. Got there by 8:30 to look around for breakfast. Many people favoured Greggs but I discovered a market setting up in a big square down an alley so enjoyed a sausage and bacon baguette and a big mug of tea at a stall. Back to the Place where we were assembling to find Jane and Euan.
The ride set off ringing and singing about 9:20, initially through the street but fairly quickly picking up NCR (National Cycle Route) 6 heading out along the River Nene off road on a good smooth tarmac surface.
About 2km out where the path divided and I was near the front so volunteered for human signpost duty. Counted about 150 riders passing, then a few more, then nothing, and no sign of the back markers in orange tabards.
5mins and still nothing. Then the signpost rider from the previous junction appeared saying he couldn't see any more coming. We are only 4km from the start, where can they be? Have we missed them?
But they must be coming, probably fixing punctures or other mechanical problems. Another 5mins and so I ride back to the previous junction. 3 more riders appear, but they are just signposts from earlier now abandoning their posts. 20mins since la tete de course went by.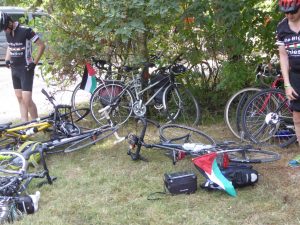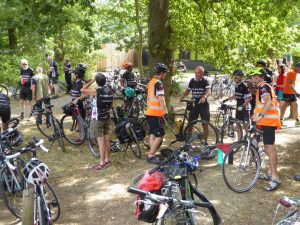 Eventually we decide to start chalk marking the route as the final backup, and then they appear. Too far behind now to be able to chase down the main group so we set off at our own pace. The shady cycle path on an old railway turns off onto nice country lanes, but in the sun. Getting a bit hot to be honest.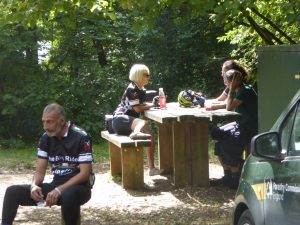 After a few km we catch up with a large group paused at a junction – it turns out that they had managed to miss the turning off the railway path and had had to double back. So we all arrived at the first rest stop more or less intact.
We enjoyed the rest in Salcey Forest about half way to Milton Keynes.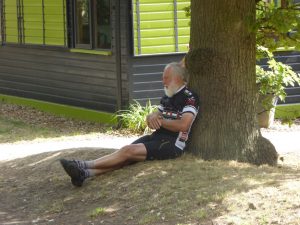 Then it was saddle up again and off on the open road over the M1 and through Hartswell, Hanslope and Castlethrope where the route picks up a single file cycle path alongside the west coast mainline before entering the labyrinth of Milton Keynes cycle ways. I must have crossed this route last summer heading East to West but no idea where.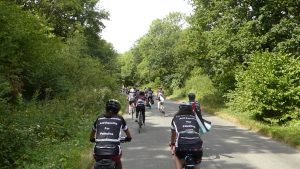 At one point we passed through a grove of mixed fruit trees including a heavily laden medlar. I wonder who collects the fruit.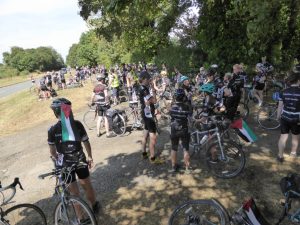 The lunch break was at Milton Keynes centre – outside the station and bus station. It was very hot and very arid. Seemingly featureless and soulless despite the efforts of MK-PSC to provide a welcome it was not a welcoming place and you can see why MK has a poor reputation. Some of the cycle ways are quite pleasant, but aside from that not a lot to commend it. The centre has a dearth of facilities – no toilets, a few shops but nothing special. Greggs provided lunch, rapidly selling out of sandwiches due to the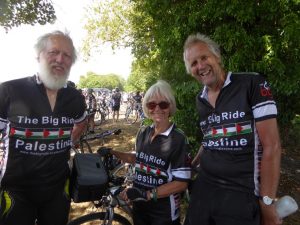 We were quite grateful to be back on the road and heading South again. Through Bletchley and then on to Leighton Buzzard where a rest stop in a supermarket car park was considerably more convivial and shady than MK Central.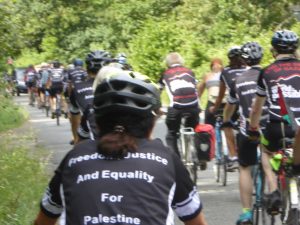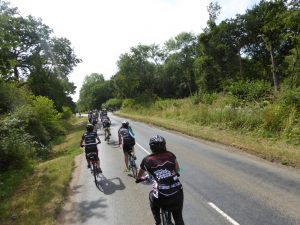 From Leighton Buzzard to Dunstable the route was another old railway now providing a relatively flat and smooth cycle way through to Luton.
The section between Dunstable and Luton was alongside a guided bus expressway – basically a cheaper and more flexible alternative to a tram/light rail line. Seems like a good idea.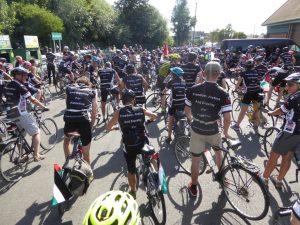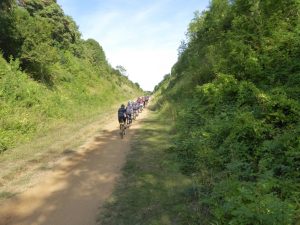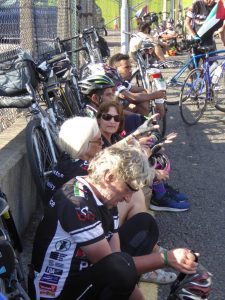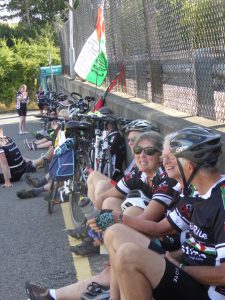 The final entrance to Luton was quite extraordinary – loads of people on the streets applauding and cheering; an incredible warm welcome that was very touching – Thank You Luton.
Our digs that night were in a Bedfordshire University hall of residence, with secure bike parking in a couple of lecture theatres. Classic modern student halls arrangement with 5 rooms arranged as a "flat" with a communal kitchen, but en-suite loo/shower in each room.
Showered and changed then a walk through the centre to a civic reception with the Mayor welcoming us and again some delicious home prepared food. Unfortunately the venue had been double booked so we only had half the space expected, but we squeezed in and overspilled to the forecourt since the evening was balmy and the bar was open.
And so to bed. Stats for the day: 79.5km ridden at an average of 14.3 km/hr