After a good day and a half out of the saddle it was time to get back on the road again.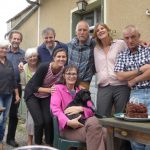 Very enjoyable break and good to see Clare & Fiona, Richard, Laura, Lawrie (or Laurie, who has done an excellent job on the new roof room) & Nikki, and Phil & Alison. Mutch catching up and new discoveries were made and blue skies appeared in the afternoon to keep us sitting out and drinking perhaps later than intended.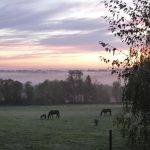 So this morning provided this misty dawn view of ponies in the field below. I really like the countryside round here, it's sort of like rolling english parkland – pasture sprinkled with trees and woodland fringes. Very few crops and plenty of Limousin brown cows. How now.
Richard accompanied me for the start of the day, we were off soon after nine and riding South through areas that MikeT and I had explored on a previous cycling holiday.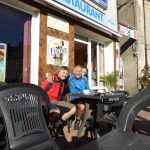 Here's a picture of us enjoying the first coffee of the morning in Lussac-les-Eglises after about 12km. I think there's a pic of Mike and I in the same spot about 15 years (and 2 bikes) ago somewhere in the iPhoto archive – I might see if I can dig it out when I get home.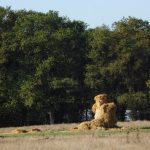 Here's what happens to one of those farmer's teddy bear sculptures from day 2 when the sheep get at it.
No vineyards in this part of France, dairy dominates. Occasional fields of maize and ble noir and the odd sunflower patch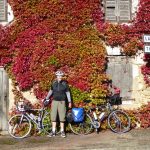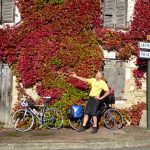 Rick came on to Azat-le-Ris at 24 km which we did at a steady 18.6 km/hr and there we parted; he to loop round back to Chabanne to complete a pre lunch circuit prior to heading off to look at the mini-Transat fleet in La Rochelle (pics please Ric), and me to continue South-westerly.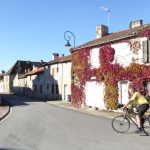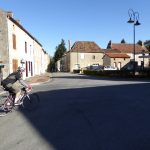 The sun was out in a clear blue sky, the jersey had come off at Lussac, and it threatened to be a bit of a scorcher.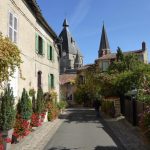 Lovely riding conditions and terrain down to Le Dorat which is a very pretty little town and where I acquired provisions and a Diablo + espresso combo to provide the caffeine hit and the cold flavoured sugar rush. Just the job.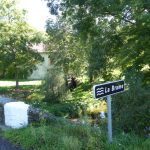 I particularly like the way in most of France they tell you the names of even the smallest streams on the bridges as you cross them. I think it provides a whole new way into the terrain. In England it is quite rare to see even big rivers named at the crossings. Perhaps it is something to do with ownership and patromonie. If those who claim to own our land allowed us to have the names of our rivers and streams we might get ideas above our station that we had some kind of stake in them and that would never do.
Anyway that was the old watermill and lane crossing La Brame which is a tributary of La Gartempe, which flows into La Vienne which joins La Loire where I left it a few days ago and that flows into the Atlantic Ocean at Nantes. So now you know. Your toe bone connected to your foot bone,…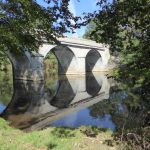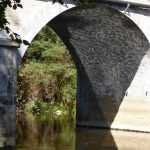 At 50 km half way(ish) point I crossed La Gartempe, a somewhat bigger river, and found the ideal picnic spot in a meadow by the bridge.
Lay in the hot sun under Alder, Oak and Ash watching the river flow on by creating patterns of reflected light rippling on the arches above.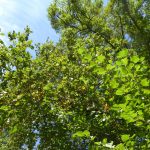 Look up through green lit leaves to splintered beams of sunlight in the blue beyond. Light and leaves in motion stand proxy for the breath of air. The world is still as twin leaves helicopter down on me, swerving aside at the last moment to land one to each side of my dreaming head. Silver limbs of ash rise over the bridge and seem crowned in shards of jade. A splash of fish breaks surface in the shade.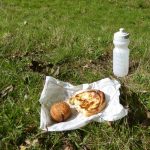 By the way today's tart was a savory number for a change. Known as a quiche. That's french for quiche that is.
Was making good time so didn't push the pace on after lunch. I knew I was on the little roads that could lead anywhere but was a little surprised by this sign. I kept a watchful eye across the prairies each side of the road but failed to catch a glimpse.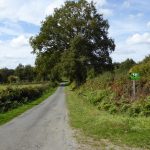 Fortunately some high cirrus formed and took the edge off the heat of the sun, leaving it pleasantly warm, with cooler patches in the shade where the road was tree-lined.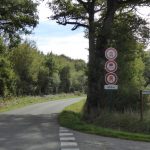 A little further on was this sign warning that clown cars and crying over spilt milk were banned 850m futher on. Also orange boxes on axles.
The next river was La Vienne at Confolens. The town being so named because it is at the confluence of La Vienne and Le Goire. On that basis half the towns in France should be called Confolens, but I can see why the went for it as apart from the big river it hasn't got much going for it. In particular it had a very poor choice of places to eat at 6pm.
I sat in the sun outside Le Sports Bar enjoying a couple of nearly-there beers and had decided to eat in town as tonight's digs are an isolated farm in the middle of nowhere. After a spurious 8km circuit along the river to the next smaller town cos the map suggested there might be something there I ended up back in Confolens eating on the terrace outside the English fish and chip shop. The clientele was the same as at the Newport Friar in Lanson but with more northern accents. The poisson was good, the frites were english which was good, but the batter was dreadful. Shame, but what do you expect in France even if the staff were all English.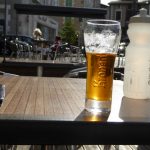 And so out to the middle of nowhere to learn about dairy farming in french from my hosts. Since my knowledge of dairy farming is less than my understanding of french I didn't learn a lot ?.
Ah well, it was a good days ride. 11o km at 17.4 km/hr and a max of 49.8 km/hr. 6hrs 20m in motion and a nice coffee with Rick, a coffee and cold drink in Le Dorat where the local old boys quizzed me about where I was going and how far I'd come, a dream in the sun by La Gartempe, and beers and fish'n'chips in Confolens. Sounds ok to me.