Stayed in a nice small modern house on new estate with view of both the Medieval City and the football pitch where last night the local lads were playing to much cheers and boos from a small but dedicated crowd. Carcassonne is about the size of Truro in population, and has a similar connected feel once the emmets are mostly gone.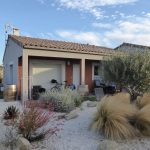 Left before 9 in a bright morning with a chill in the air and the promise of sun. Tail wind again to help me along the lanes. Definite Mediterranean feel to the countryside. Vines, of course, and scrubby dusty areas, the odd olive grove. Distant hills now veiled in trees, now showing bare shoulders and curvaceous cliffs.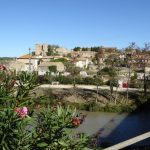 Criss-crossed the canal all day as always the canal towpath looked unsuitable to ride comfortably or fast. Sometimes the road ran alongside for a spell. Sometimes I ignored Miss OSM who wanted to take a twisty bumpy back lane when the swish new D road she was avoiding.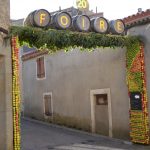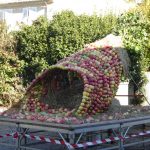 Aigues-Vives was preparing for an apple and wine fair and the whole town had been decorated with apples. Even the drainpipes. Looked like it would be fun, but unfortunately it was tomorrow.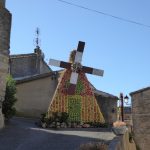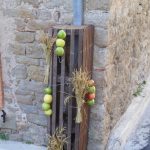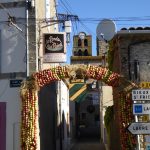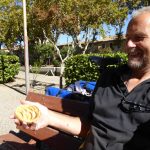 So today's tarte du jour had to be pomme. And very nice she was too.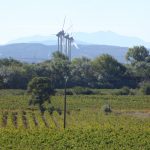 Here's a glimpse of a Pyrenee beyond the wind turbines. Loads of vineyards today. Corbieres, Minervois. Good rich reds like wot I like. Just wish I had pannier space for some. Perhaps I'll do the English thing and overload my vehicle at the Cave on the ramp into Roscoff port ?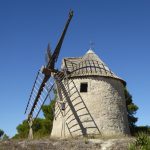 Miss OSM took me out of the Aude plain up 100m steepish climb to cross the A9 coastal autoroute which I forgave her for when we reached this old windmill at the top and looking south was rewarded with the sight of a thin strip of darker blue between the sky and land.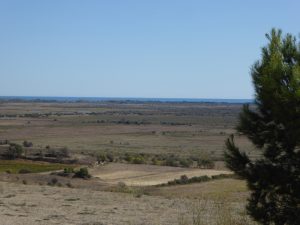 We must be nearly there…
WE INTERRUPT THIS BLOG POST FOR AN IMPORTANT NEWSFLASH…