(photos from yesterday now posted)
A pleasant evening with Helene and Herve practising my french. I think they got most of what I said and I got about 40% of what the said first time. She's a nurse doing occasional night shifts down in Cognac and he farms the 50 Ha with 60 dairy cows on his own. 3 grown up children all fled the nest hence the AirBnB of their rooms to bring a bit of variety to life.
We watched a cop drama on TV, sort of French Morse meets Broadchurch set in the mountains. I got about 20% or less of the dialogue but 100% of the story about a young woman murdered and a child disappeared with the grumpy old experienced cop leading the investigation and his two sidekicks (one smart whizzkid and the other more thoughtful and reflective) alternately screwing things up. Not bad actually and in the end the wildman of the woods mute suspect turned out to be a gentle giant who merely witnessed the murder and abduction and the child was found with his help.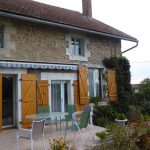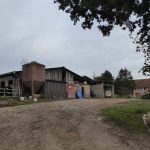 So waved goodbye this morning and back on the lanes. Yesterday's high cirrus had thickened a little and although there were still pale blue patches in the west the sun wasn't casting a shadow.
No villages likely to have a cafe within 10km of the route all morning so it was necessary to get 50km in in time to get something in Aigre.
A couple of periods in the first week felt a bit like the back of beyond but this was really out there. Not hilly, just undulating. Entered a wooded area with occasional small fields and high deer fences around the enclosures. I saw a large pale dappled fawn sitting close by, she stayed as I stopped but the sound of velcro being very carefully undo to get the camera out saw her off and away.
The fences finished and the lane became a good dirty track skirting woods and fields of pasture.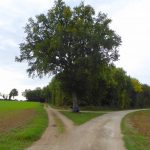 Half way to lunch I took a snack break at a divide in the track. Totally silent and away from everything – apart from not one put two locals passing in beat up old vans. Getting like Piccadilly Circus round here; better move on.
The various surfaces of the lanes and tracks had made for slow progress. Down below 15 km/hr average. Sometimes you find a freshly resurfaced lane with a modern smooth surface and that is great. Next best is an old originally smooth one which has gone a bit undulating. When the undulations get too much it gets patched and that is worse. Worse still is the newer but tar and chippings surface. When newly done it has loose grit in the centre and edges which means you have to take care cornering. As it ages it goes solid but with quite a rough surface adding to the rolling resistance. Eventually all the little stuff sinks through the tar and larger chippings like the dust in a box of bran flakes and you get a heck of a vibration (see De Selby references previous). Then it breaks up and potholes develop. And that's just the tarmac'ed lanes, I should go on about the grades of dirt track…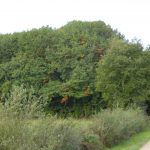 Autumn colours are starting to show. The carpets of acorns and chestnuts on the road have been joined by occasional leaves. Yesterday and today also lots of horse chestnuts. I picked up a french conker to keep and harden for when I induct Eilidh and Rowan into the sport of conkers in a few years time.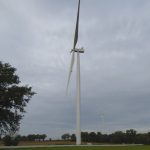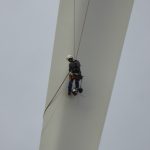 Look at the little dot on the blade of this wind turbine. Click or tap for a close up view. That's one seriously large turbine blade – you don't often get a sense of the scale of them.
Eventually getting fed up with the beautiful but slow route Miss OSM was taking me I decided to turn her off and hit the high road in order to get to lunch in time. The D roads are rated like English B roads so Miss OSM doesn't like them. Sometimes this is sensible, but the D739 had a new smooth surface, was straighter and flatter and only had a lorry every 5 mins and about 1 car a minute, mostly going the other way, so I gave it a go for the last 20 km to Aigre.
The pace picked up dramatically.
Where it crossed the N10 we entered another rural/urban frontier zone. The N10 is now a high speed modern dual carriageway with lorry trains thundering both ways carrying goods to consumers and cars blaring past them carrying consumers to goods. It has severed its connection with the D739 so a line of crumbling once thriving business lots along the road were filled with weed covered concrete and rusting bits of machinery and signs. One lot had been cleared and neat lines of saplings planted on orchard spacing. The rural comes back.
By the time I entered Aigre the rolling average had fought back up to 19.3 km/hr and, not having had anything substantial since a bowl of coffee and bread and jam at the farmhouse breakfast I decided today was the day I would finally get a menu lunch.
And very good it was too. Crudités (coleslaw, chicory, melon and tomato) followed by escalope of veal (yes I know I shouldn't but I wasn't going to risk the sausage after the experience Jane and I had on a similar occasion a few years ago, and I had fish last night) washed down with un pichet du rouge for €11.50. The escalope came with an excellent mustard sauce, lettuce and english chips rather than frites. It was very good.
By now the restaurant had filled up so I passed on the coffee since it was 13:25 and I figured I had time to find a tart at the bakers.
Unfortunately it's a bit further south than the other day and here they shut at 13:00. Ah well perhaps there's one waiting for me in Cognac.
During the gentle rise out of town the anticipated post lunch wobbly legs kicked in. Clearly the late morning work rate was not to be sustained.
Emerged into sun drenched big sky open country. Still undulating slightly but much more open field and few woods.
The sun had come out full on. If this continues I will be needing to take siesta from 2 till 3:30 and having to start earlier and ride later.
Vineyards now appearing again, and the harvest in full swing and plenty of those magic machines crawling across the distant ranks.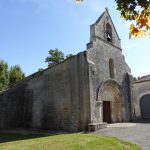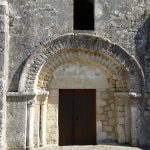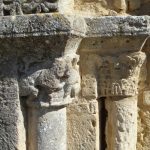 Stopped for a breather at a picnic bench in the shade by this chapel. The portal stonework looks pretty old to me with that rounded saxon style arch. Some interesting carvings atop the pillars weathered into unrecognisable anonymity. No information around as to its age, and the door was locked.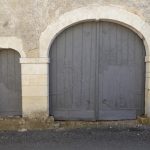 Also admired these curly hinges on an adjacent farm building.
La Charente meanders around this area. I crossed it earlier on today but it takes a most circuitous route and doesn't end up in La Gironde as you might expect since it gets so close but heads off north-west again to reach the sea at Rochefort. It seems to be navigable to Cognac, at least there were some small cabin cruisers tied up there.
Finally pulled into Cognac around 5:30 for an end of the dry dusty road beer in the centre.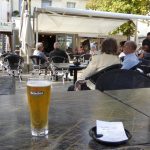 Also picked up a tart in a nearby street and took her down to the river bank for a good time. She had a base that wasn't pastry but more like a biscuity crumble with a layer of creme anglaise on top and diverse fruits set in it. Very delicious.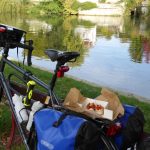 So 99.9 km at a final average of 17.2 km/hr after being up and down all day. 5hrs 48 mins in the saddle and a max speed of 45.3 km/hr which was actually on a seemingly flat stretch of the D739.