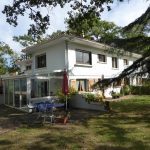 Firstly thanks to Chris & John for two fabulous days at BeauChene in Soulac-sur-Mer. Incidentally it is up for sale so if anyone fancies a lovely house in the Gironde / Medoc area (where some of the best French red wines come from) with two holiday letting apartments in a very popular holiday area you know what to do.
On Friday I decided to stay an extra night so we could go for a sail in their Drascombe Lugger on Lac du Hourtin on Sunday. On Saturday we went to a local eco group local and wild food event which involved a sumptuous French lunch on Les Marais all made with food produced within walking distance (and I don't mean like Compostela del Santiago is within walking distance). I even ate my first ever oysters – not knowing what I'd been missing I can't say if they were good ones or not.
After lunch we went for a coast to coast walk and gathered mushrooms, parasols mostly, which Chris later made into a delicious soup with added wild spinach that we also found.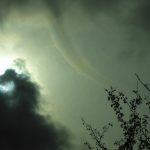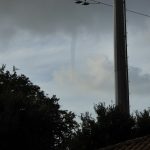 Coming back we saw these amazing funnel clouds. The photos don't really do them justice. The whole sky was a bit weird…
… funny weather we're having eh wot.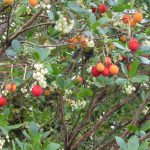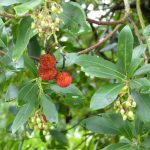 Also growing wild in the forest are Strawberry Trees (Arbutus unedo) laden with fruit. I saw loads more today. I have one at Gwel Dulas that is not thriving and now here's a clue as to why – Sand! It probably doesn't like my heavy rich clay soil. The fruits are edible, soft but a bit grainy from the skin. Probably make an interesting fruit cheese or jelly.
On Sunday we had planned to go to the market at Montalivet for an oyster brunch on the way to the boat, but in the event it was pissing with rain all morning making me very glad I'd decided to stay an extra day. The rain cleared and we got down to Hourtin for a sail anyway.
The lugger is interesting, by far the prettiest boat on the lac (the competition being 20ft plastic cabin day sailers and small motorboats). It's weird not having a boom, and upwind performance leaves quite a lot to be desired. The main sets really low and you can't see under it. It all works though and we had a good sail. The lake is enormous (10 miles long, you can't see the other end even when the drizzle lifts) and where the moorings are very shallow (about 2ft6). Yes the drizzle did come in again for a while, but it was a warm day so not like getting cold and wet sailing in England. It stopped before we got back to the mooring though.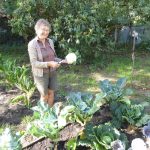 Another unexpectedly great day rounded off with a roast duck served with black potatoes and a perfect cauliflower from their veg garden.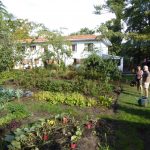 When we first visited BeauChene shortly after they moved there the garden was a thin cover of straggly grass over sand under the trees. Now the veg garden is really productive and Chris was rightly pleased with her first cauli.
Anyway I'm supposed to be writing about cycling and today's ride south from Soulac.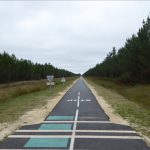 In summary – Flat. As in dead flat. And straight, as in 10km dead straight cycle paths with excellent tarmac surface through the forest. And quiet, as in so quiet that I could hear that there was no noise from the bike. As there shouldn't be. Thus also fast as in a steady 24 km/hr with minimal effort. I'd hate to do it against a head wind though.
Chris and John accompanied me for the first 18km down to Montalivet which was good having someone to talk to. If ever you think of doing this section of the Veloddesy along the atlantic coast (you don't see the sea that much) take a companion to keep you company. Otherwise you'll find your mind wandering off into pondering the nature of gods.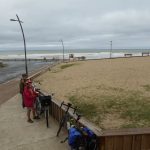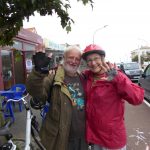 So at Montalivet we had a farewell coffee at the only place open now the season has firmly ended and anyway its a Monday, and I had a last look at the ocean as the rest of the day was inland of the lacs and tomorrow I turn East to find the canal.
The weather was warm (as in t-shirt only) but overcast. Once there was slight hint of a weak shadow from the sun but it didn't last.
Going at such a pace that I was in danger of arriving at the destination shortly after lunchtime and the host doesn't return from work until 6:30pm.
So at more or less every place that wasn't a cycle path through the forest I stopped to look around. Didn't find a lot of note.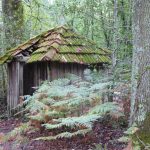 Spotted this little tumbledown shack in the woods just off the path. Very Hansel and Gretel. Saw lots of evidence of wild boar (fresh diggings along the edge of the path) but no animals of any sort. Not much birdlife either; magpies, pigeons and LBJs.
Hourtin and Carcans both had big dressed stone built churches quite unlike the Romanesque heaps of old rubble in Charente-Maritime the other day.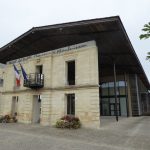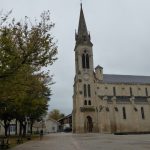 This one was Carcans where they also had the facade of the old Marie with a modern one built 50m behind it. No explanation on the information board.
In Hourtin I had a coffee and watched the bar owner refuse to serve a troublesome drunk elderly local (at 10:30am). In Carcans I ate the lunchtime home made Cornish pasty that Chris had pressed on me. Very nice even if it was made in the Gironde not Cornwall. Being Monday the french tarts are having a day off, but Chris had also provided a slab of fruit and nut cake that she had knocked up for pudding yesterday that we hadn't eaten. That hit the spot ?.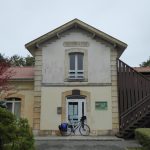 In Lege the path went past what was obviously and old station building now shared by the local hunting and cycling organisations (do they hunt the cyclists I wonder) so this section of the path must be following an old passenger railway.
All I could find was that during WW1 the area was vital for timber production for the war effort and British and Canadian lumberjack battalions were station her to harvest and bring out the timber using the railway. The Canadians brought a sawmill over and vast areas of forest were cut up and sent to the western front. Being in a lumberjack battalion stationed in the Medoc was probably not a bad way to get through WW1.
Despite all the dawdling I found myself in Ares with only 9km to go before 4:30pm so settled into a bar for an almost-there beer or two and to read my book. Whilst doing so a light drizzle started.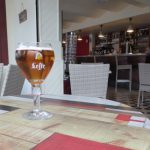 When I came out the drizzle was not really heavy enough to merit protection for only a few km. And then it stopped anyway. Only slight problem was that I arrived at 6:30 to find the host was delayed in traffic coming from work in Bordeaux. But a kindly neighbour showed me in.
So 113 km and it could quite comfortably have been 20 or 30 more on this terrain. Average 19.3 km/hr and that was artificially reduced by deliberate dawdling. Good day. Tomorrow I head East.