Slept comme un masse encore (Laurent told me that was french for like a log. Comme un bebe is more gentle) and up with the sun (which doesn't rise here till about 8) to get going for another long day.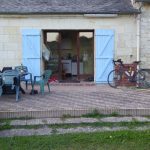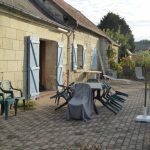 Of course it's Dimanche so not expecting to find anything open but had hopes the baker in Avione might be providing croissants – sadly not to be.
The french round here like to celebrate the day off work by going out and shooting stuff. Lines of them marching across the fields taking potshots at anything that moved. I'm pretty sure they don't eat what they kill, perhaps they should be made to – sparrow fricasse anyone?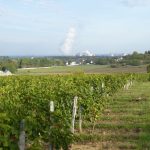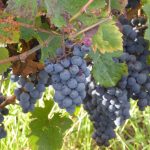 I always think of Loire wines as predominantly white, but round here in the shadow (or microclimate) of the big nuke plant they seem to be growing red grapes.
I counted at least six reactors at that plant which was just 2km from where I was staying. The older ones look like giant's cooking pots, and one of the newer ones is a shiny sphere like a 50s space comic but gone all rusty on top. The whole thing looks a bit heath robinson and ad-hoc engineering. There was a bit in the local paper at the digs last night about new concerns over emissions. I just hope they have a plan in place if La Loire was to run dry, it relies on the river to keep it from melting down.
There was also a bit in the same paper about some local monitoring over 10 years finding increasing levels of agrichemical pollution in the air and the water and the plants. Calling for a move for farmers to stop using glycophosphate and other bad pesticides.
At least one village I rode through today proudly announced on its nameboard "ville sans phyto" meaning no nasty pesticides used here.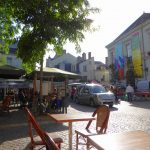 Left La Loire and started up La Vienne, stopping at Chinon for a much needed coffee and croissant break. A small market was in play. As well as the wine of the same name which I think of as a thin tasteless red, it also has some literary connections. Rabelais came from here allegedly and his image is all over the place. His phrase "eat, drink and be merry" specifically praises Chinon wines, but I still prefer hearty peasant reds.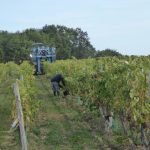 Anyway the grape harvest was in full swing. What used to be a cheap holiday for UK students prepared to cut the first couple of weeks of term, is now done by one man on a monster machine that magically strips the grapes but leaves the vine.
Except this older model still required a man with a bucket and dog to walk along behind collecting the dropped and missed bunches. I asked the driver of a new machine that was stopped at the end of a row how they worked but didn't really understand what he said. Any sufficiently advanced technology is indistinguishable from magic for those who don't understand it. I can confidently assert that these machines work by magic.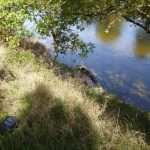 Turned off La Vienne near Port-de-Piles to take La Creuse. After a picnic by the river the sun was beating down and the road got long and straight. Not much in the way of hills today, but those 3km long straights are soul destroying. The end always seems to be rising and never getting closer. Legs getting tired. The occasional villages firmly in Sunday mode with no watering holes.
Found a door open to a kitchen of a hall where some community lunch was going on and begged some water as my bottle was almost empty and I was rationing it to a sip every 5k.
I had been having disputes all day with Miss OSM as she insisted on sending me up onto the hills at the side of the river plains and then down again to cross to the other side and do the same thing. I prefered to use the Sunday quiet straight D5 along the flat plain between the tiny (closed for Sunday) towns at the bridge crossings. She may have had a point but my way was shorter and almost no traffic about. I expect her way would be better on a weekday.
Delighted to find that Tournon did have a bar miraculously open. First one since Chinon so had to have a second to catch up. Also arrived half an hour early so got on with The Silent Boy. Its good although the action has now moved to England.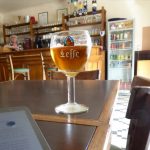 101 km today at an average of 17.3 km/hr. At times a bit hot and in need of refreshment and my legs are starting to look forward to a day off, but a pretty good day. Scenery a bit flat bounded by a line of low hills about 1km back from the rivers. Vines, some maize still standing. Sparse hamlets and little sign of life. Almost no traffic which allowed me to use the more main road and during the morning riding well into the zone. Mind blank, legs pumping, road passing beneath.
Day 7 track: 24th Sept 2017
101km, 447m ip, 437m down