After an excellent 3 course dinner provided by Julia together with good conversation I slept very well in comfort. Awoke to a misty sunrise promising another fine cycling day.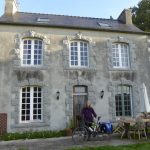 Julia's place, Le Koru, is a fine old Breton farmhouse just 2km off the railway cycle path, 7km short of Carhaix so they get plenty of cyclists staying. Strongly recommend it as a first or last stop from Roscoff.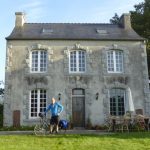 After a good breakfast with proper tea and Paddy's (Julia's partner) good home made jams (I especially liked the Mure, since I have failed to make any this year) I was ready for the off at 09:30.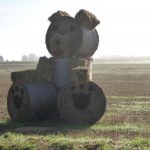 Just down the road I met this piece of farmer's art. Possible Turner Prize entry? Rural Naive school. Almost eerie looming out of the mist.
Back onto the railway path for the 7km into Carhaix where I planned to get something for lunch but I couldn't find a boulangerie.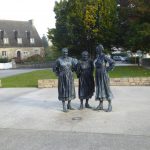 I saw a man carrying a couple of loaves but he had come up a long hill that I didn't fancy going down as I'd only have to come up again. These three old ladies were too busy gossiping to help me, and there was no explanation of what was going on.
I decided today was a good day and the path wouldn't be so bereft of watering holes so pressed on.
The railway heading south went to Concarneau originally, so I was going about half way down it before taking to the lanes to Moelan. A few km out of town in crossed the canal (Brest-Nantes) that we had cycled along a bit of a couple of years back.
A bit further on it had descended to canal level by this old lock house and Le Port de Carhaix – now derelict.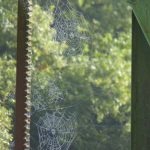 By the look of the sluice gear I'm not sure how functional the canal is east of Carhaix. I did hear there was a section that had been turned into fish lakes. Maybe an adventure for Saskia if she ever finds her way into the Loire and down to Nantes.
The path today was much more interesting than yesterday, more open sections lined with oak and chestnut with views between. Yesterday I thought I saw a red squirrel twice, today one hopped across the road and waited until I fumbled for the camera before leaping down into the field. Presumably it is the chestnuts they are after – was that what squirrel nutkin was gathering when he lost his tail, or was it acorns?
Weather excellent, sunshine and occasional clouds scudding across. Not too hot and dappled shade from the trees so never quite took my nice new blue jersey off – big shout out to Martyn Anthony Nathan Mark and Lynne. Thanks guys, excellent choice.
The goodness continued as I got to Gourin and found not only a choice of boulangeries to get a sandwich for lunch but also bars for a late morning coffee stop. Although nearly lunchtime I resisted the temptation to stop for a meal and pressed on.
Hadn't seen another cyclist all morning, just a few local walkers. About 10km later I was caught up by a frenchman on a bike and managed a conversation in French. He was concerned that at 1pm I hadn't found somwhere to eat and assured me that 1km on in Guiscriff there was a good choice of places and a cafe at the old station. And so it was.
Most stations have been converted into dwellings, but a few survive and this one houses a museum as well as a cafe and outside has an example of a Draisine, a railway workers' self propelled carriage. Seat for driver at front with a temp and oil guage – no speedo – and not a steering wheel, but a brake I think. 8 workers would sit sideways on the engine box (keeping them warm in winter) housing a 4 cylinder Renault diesel.
This line opened in 1896, the last steam engine ran in 1947, then diesel autocars for 20 years till it closed in 1967. It was 1985 when the Department took over the lines to convert to voie verts. Note the large tree by the old waiting room which is in its original place so the tree can't be more than 50 years old as its on the track bed.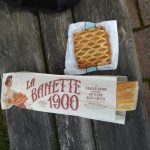 Lunch today was an American – egg, tomato, ham, salad, mayo. Better than yesterday's Classic – ham and emmental, which was itself pretty good. Today's French tart was an apple lattice. Yesterday was thin apple slices on a pastry base rolled at the ends and dusted with icing sugar – a powdered fancy tart. Todays was far more your rolling country lass, with an earthy goodness in the thick apple sauce. Much better. All washed down with a citron drink from the cafe de gare and taken in the sunshine.
Apart from the stations I came across one place where obviously a short viaduct had been removed and a house planted in the line. Miss OSM didn't know what to make of it and the only signs were nortbound ones back to Carhaix. No indication of where the route was detoured. Fortunately velomaps on the garmin had the answer in sufficient detail once zoomed right in – a hidden narrow steep track beside a house was the way to go.
At Scaer I left the path. Miss OSM tried to persuade me twice to go up steep long steps at the side of the cutting (and "avoid steps" was explicitly selected in the preferences) to get onto the road above. Eventually I had to retrace to that last level road crossing.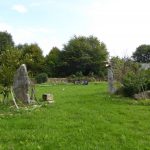 Once on the roads Miss OSM found a fabulous quiet route, gently rolling through lovely countryside – no distant vistas but lots of close up detail. Plenty of laden apple trees as well as even more chestnuts on the road. At St. Jacques I saw this green field with a standing stone and some decorations around.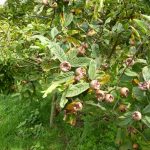 To one side was an apple tree with loads of fruit so I had to take one, then on the other side I found this medlar tree with a heavy crop. Of course two of those had to also go in my bag to blet for later.
In a field beside the road spotted this going on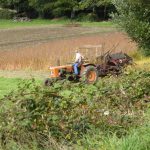 Must be one of the first combine harvesters. Not sure what he is mowing, not any cereal I recognise. The machine kept jamming and he leapt off wielding a sickle to clear it. Would probably have been quicker to scythe the whole small plot the rate he was going.
Making good time so stopped for a hit of espresso at Bannalec.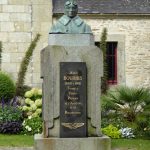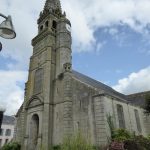 Admired the memorial to local lad Jean Bourhis, early aviator and second man to try using a parachute – in front of a crowd of 50,000! Ghouls! He was shot down from a clear sky over Verdun in 1916. Drat that Red Baron! I also puzzled over the obviously afterthought clock tower on the church. What did the burgers say to the architect when they saw he had forgotten to put a clock on the church?
After Bannalec the espresso hit made the last 17km fly by. 6km out Miss OSM who had been doing really well threw a final curved ball and sent me down a muddy stoney green lane. To be fair looking at the map the alternatives were far longer and busier roads, and it was only 50m of walking mud and big stones. Nothing like the wobbly Mr. Google threw leaving David's putting me down 2km of mud bath across the Somerset levels. Plus the thought of this awaiting helped: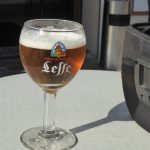 83.1km at a rolling average of 15.2km/hr. Arrived Moelan-not-really-sur-Mer at 5pm so 7.5hrs including stops. Max speed 45.9km/hr – that'll be one of those nice long smooth road descents near the end. Another good day done.
Day 2 track: 19th Sept 2017