A good start. Ferry arrives on time, weather excellent – mostly sunny, not to hot, no wind to notice. Made very good time and arrived before 5pm even after an hour for coffee, an hour for lunch lying in the sun and half an hour with a couple of beers in a bar near the end.
Sun was rising over Baie de Morlaix as I left Roscoff.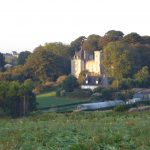 Rather liked this old house built to face the morning sun over the bay.
I had decided to stick with OSMAnd+ as the map after the faceoff between osm and google on the ride from Katy'n'Murray's. Wasn't long before she was up to her old tricks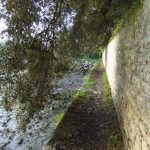 This was her idea of a paved road having been told to avoid unpaved roads. Yes that muddy track in the distance was really the way to go around a field and up some wooden steps into a farm yard.
Then it transpired that avoid paved roads also meant avoid all cycle routes even if the surface was good. We came to a mutual understanding that I would treat her route as merely advisory and she would try and do better. After that we got on fine.
Morlaix station after 1hr 52mins plus 15mins of faffing around taking photos and carrying up steps. So Euan and Ewan if you are reading this we should be fine to get the 13:04 train on the way to Bonn – we have 3hrs.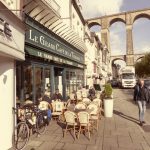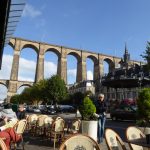 Morlaix surely means time for breakfast croissant, pain au chocolate and grand cafe au lait. Relaxing in the sun chatting with other cyclists who arrived, a couple from the same boat and a chap doing short haul rides around Morlaix.
Jane and I did the ride on the Voie Vert from Carhaix back to Morlaix a couple of years ago and found there were no refreshment stops, so got myself a baguette and a french tart for lunch and set off.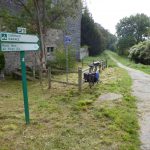 The first 15km are in a cutting and through woods so a bit boring but the surface is good – last week's rain keeping the dust down and then 2 dry days solidifying up most of the mud. 1 in 40 drag on the up but speedy after the summit.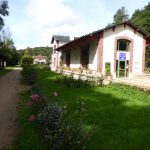 Making such good time at Gare de Scrignac that I lay in the sun enjoying my tart and started to read The Silent Boy by Andrew Taylor. Set during the French Revolution it looks like it's going to be quite good.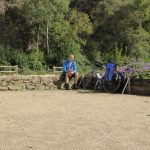 Whilst lunching two more couples from the boat arrived and chatted. One pair of townies, she on a borrowed bike without mudguards and finding the going quite tough – with a fetching line of splatter up her back. I didn't think it had been that muddy! The other older and more experienced couple also on a short tour de Breton-land.
The railway had been opened about 1890 as one of five lines raidiating from Caihaix to open up Bittany – then as now an impoverished distant from Paris rural backwater. Just like Cornwall.
It was built to a 1 metre (narrowish-) gauge which cut costs but meant it could never be connected to the main network.
The line was highly profitable right up to the 1950s, but as elsewhere the rise of the car hit hard and it finally closed in 1967. 40 years later it, like many Breton and Normandy local lines, found a new life as a Voie Vert for cycling and walking.
Although the surfaces are generally good – much better than the Tarka trail in Devon which is stoney as hell, they are not nice in the rain as clay muck gets thrown up all over your legs and gears as Jane and I found out the hard way a few years back in Normandy.
In a slightly muddy patch I met two French cycle tourists going the other way and managed a conversation mostly in French. They were camping – serious hard-core and heavily laden. Had come up from Toulouse, one going to the ferry and the other doing a loop to Mont St. Michel and back to Toulouse. They confirmed without prompting what t'internet had said; that the Canal du Midi cyclepath beyond Toulouse is impassable to ordinary bikes – which is good to be forewarned of.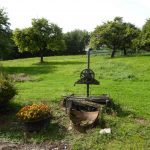 The railway paths, unlike canal paths, are pretty boring. This old apple press in the corner of an old orchard was a highlight.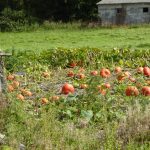 And these pumpkins provided a splash of colour which made me think ahead to a glass of amber nectar that must be waiting in a bar up the road.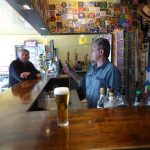 A dream soon to be realised.
Also there the older couple from lunch. Turned out to be his sixty-thirteenth birthday so a conversation ensued drawing in a French local and the barman (who was playing The Clash Sandinista album as background music) and conducted in French and English. Naturally another glass was needed to help the babel-fish in the ear.
And so on to the last 5km to Julia's gaff, my (English) AirBnB host for tonight. A lovely spot arrived about 5pm in late afternoon sunshine and sat enjoying what'll probably be the last excellent pot of Assam tea till I get to Fiona'n'Clare's.
Only 76km, 5hrs 16min rolling at an average of 14.4km/hr – so slightly down on the July trip, probably due to the extra weight (bike, not me thank you). 3hrs 20mins stopped time. A good easy first day.
Day 1 track: 18th Sept 2017