So Jane and I, together with Euan McPhee who did the Pedal2Paris and On2Bonn Climate vision rides with me, have signed up to do The Big Ride for Palestine at the beginning of August.
Its only 120 miles over 3 days so should be well within our capabilities, but we have been out doing the odd trial to make sure the old legs are working.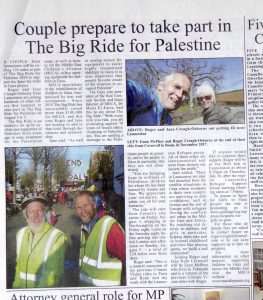 I also wrote a press release and sent it to the local papers and the good ole Cornish'n'Devon Post were kind enough to publish it in full and verbatim on their inside front page.
Click/tap the image for a larger legible version. You can also read a slightly different version on their website here
Its more about raising awareness than funds – but if you'd like to donate to the Sport for Girls in Gaza project that the Big Ride is Supporting this year then go to www.globalgiving.org/projects/sports-for-girls-in-gaza (and drop me a line if you do…many thanks)
In terms of raising awareness it is difficult to find accurate information about the Palestine situation without digging as the mainstream media in the UK are pretty much toeing the establishment pro-Israel line (ever since 1948 when the UK government trained and supplied the zionist guerrillas for their uprising).
A good place to start is with the Palestine Solidarity Campaign who have some useful resources.