Opened the curtains to a clear blue sky and sunshine. Not a cloud to be seen.
Yesterday afternoon ended with me standing in a new small estate of houses fumbling to find the photo of where I was staying cos I knew it didn't look like these. I was hailed from a passing car – Daniele and Laurent, my excellent hosts, recognising a bemused English cyclist. I followed them round the corner to a house that looked different from the others around and was welcomed in.
After a rest and shower walked into town for food. Pizza and a carafe of cidre drunk from a boule. Proper. And very tasty. This morning woke to a clear sky and a good French breakfast. My franglais is not very comprehensible to Daniele, but Laurent's english was better. Funny thing was when he was translating I could understand him and I'm sure he used the same words I thought I had said ?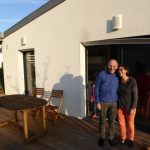 Set off 09:30 with Laurent pressing me to take a goodie bag of croissant, pastry and banana we hadn't eaten at breakfast. I don't like to start on a full stomach when cycling, preferring to take on fuel as I use it during the day, so the bag was well appreciated. Laurent did some big hard core cycle trips in the past so knows the score. Daniele was charming, and some good pictures hanging in their light and airy home were her own work. I was impressed as I always am when I meet good people.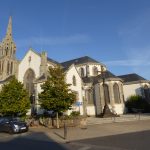 Moelan has a church that seemed a bit unlike other Breton churches so here's a pic of it (and a blue sky) Lovely 12km ride to Quimperle. As last night clear sky criss-crossed with con trails. Everything to Europe from the West, and heading SSW from UK must cross Brittany. I know they are only water vapour and the conspiratoriasters are measuring traces from other sources, but water vapour is itself a problem. Not only a powerful greenhouse gas itself, but also a contributor to global dimming. As we found out in the days after 11-9 when all flights were grounded. We must halt 90% of all flights, but that will also make it hotter on the surface as more sun gets through…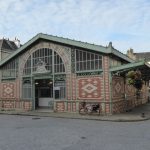 Anyway such musings occupied me to town where I stopped for a coffee by this market which I recognised from previous visits. Unfortunately no need to buy any of the fine local wares within. So I enjoyed a cafe au lait and Laurent's gift of a croissant to get me going now I had loosened up.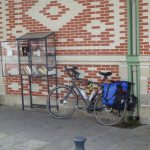 Parked the bike next to this book exchange box whilst I drank. In England we have old phone boxes serving the same purpose. They can close our libraries and try to stuff us full of mass media pap, but the people will find a way to feed their minds.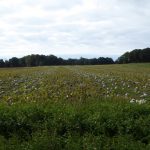 After Quimperle it was up onto the rolling plateau of this part of Brittany and Miss OSM really performed well finding a superbly quiet route through interesting farmland. Hardly saw a car all day. Occasionally dipped down into classic french small towns and villages clustered around a church. Sad to see many shops and bars closed and boarded up for sale or dereliction. That's your culture being destroyed by global capitalism, just as back at home. How the heck do we make ourselves a replacement culture worth having. What's on offer from "the market" certainly isn't cutting the mustard (or even buttering the parsnips)
Lots and lots of small apple orchards, typically a dozen trees or less, all heavily laden with fruit. Hope it is all still being put to use. Not large orchards like in Herefordshire so possibly uneconomic. Another example of conventional economics failing to recognise real value.
Skies clouding over from the west, but the wind from the south so hoped the rain might miss.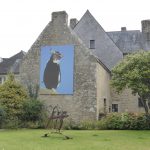 Anyone know what this bird is, seen on a building in Pont Scorff?
I knew that Monday was a problem shopping day but round here the bakers all seem to close on Mercredi as well. ? Getting worried about my lunchtime sandwich.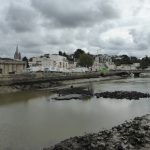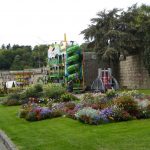 Eventually found one in Hennebont where they also have the foundations for two ruined bridges across Le Blavet, and a castle with fairground rides set up against its walls.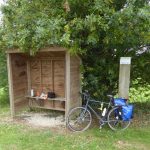 Pressed on until just after the halfway point I found a nice little wooden house specially erected for cyclists lunches.
Very convenient, I expect schoolkids use it in the morning when no cyclists around. No french tart today as Laurent had provided a lovely sticky danish pastry full of buttery goodness and raisins. Yummy. Ate her sitting there listening to acorn rain.
Dark clouds in the East as well now, but a line of bright to the south to give hope. Lots and lots of large fruitful chestnut trees. There must be a significant weight of nuts on a mature one in full production. When you consider they can be used to make a flour they are probably more productive per acre than wheat. I have two chestnut trees at Gwel Dulas, but I'll be lucky to get a large crop off them before 2052.
Good to see mature apple trees with their canopies touching on the same spacing as my maidens at Gwel Dulas. I must have faith that I didn't set them too far apart.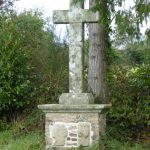 Spotted this wayside cross, on the plinth are set two much older stones. On the left the centre of an early or even pre-christian cross. On the right what looks like a female torso. It stands next to an old wellspring. A fertility symbol?
Funny how new religions absorb their predecessors symbolism. What will the next one repurpose from our worship of man-as-god?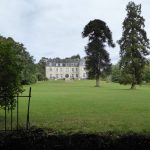 Also liked this classic house set back from a narrow lane.
The promising brightness in the South became patches of blue and then full sunshine and I took off my jersey. Hopefully it'll become a getting started in the morning only garment before too long.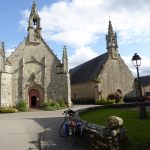 As I pulled in for a late afternoon espresso to give a boost for the final 20km I was struck by this pair of chapels behind the church in Plumergat. The one on the left 15th and on the right 17th century. The older one was open and marred by some not very nice modern stained glass. Still all those apples had set my mind on higher things: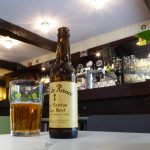 My reward awaiting my arrival. Tomorrow I leave Brittany so it had to be cidre.
100. 0 km exactly at a rolling average of 16.3km/hr and a max of 52.7km/hr. Blooming heck, I seem to be going further and faster each day. Just a random data point, not a trend that can persist. The Dude Abides.
Day 3 track: 20th Sept 2017